Cityfront: A welcome change
|
The recently opened US Consulate in Arnona still has a few difficulties to iron out but overall the new, larger facility is eliciting a positive response.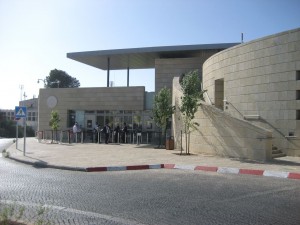 for original link click here
Amihai Zippor, 11/12/2010
(Jerusalem Post) For many who are frequenting the new US Consulate facility at Rehov David Flusser 14 in Arnona, the site is a breath of fresh air. Opened just over a month ago, the building, which overlooks Armon Hanatziv and has a spectacular view of the desert to the southeast, is the culmination of six years of planning to better serve the public.
"It's a modern, state-of-the art facility that uses green technology, such as capturing rainwater. It's environmentally progressive and efficient," said Frank Finver, public affairs officer and consulate spokesperson.
"We still maintain our offices in various places around the city, including Nablus Road. This site will enable us to provide and enhance our consular services both for American citizens and local residents seeking immigrant and non-immigrant visas," he said.
The Nablus Road site was the previous location for consular services, which include passport renewal and recording births. Leased since 1952 by the US government, its much smaller setting was dark and unwelcoming. Having moved to Arnona, the new facility is all about altering that perception.
"I think the significant change in the size makes a big difference," said Jerusalem resident Yakir Shechter, who immigrated to Israel two years ago. "The previous location felt much more crowded, small and cramped. Here it's much more open, and I saw a big difference in the customer service. They were very friendly and cordial. At Nablus Road I didn't feel that. People got a little edgy there; but here, with much more space, it makes people nicer."
Anna Koulouris, a US citizen of Palestinian descent who is interning in Israel, felt the same way, although she appeared to be on a wild-goose chase trying to get her visa extended. "This is my third time trying to get it right, and I was told a few different things," she said. "On an interpersonal level, everything was great. The guy at the wicket knew me, and I'm Greek and he's Greek; but I'm at the wrong place again. Someone at the US Embassy in Tel Aviv told me to come here; and here, they said I have to go to the Interior Ministry."
Another man concurred that the new compound was much nicer. However, he also felt that some of the bureaucracy hadn't changed. "It was fine, aside from the fact that the website instructions were a bit off. They say one thing, and now here they tell me another. It's fine; I accept it. Americans – you can't fight them," he said.
Another woman who spoke with In Jerusalem commented about the website, adding that the directions to the new facility were unclear. If not for the big American flag, she said, it wouldn't have been obvious to her where to go.
In response to concerns about the website's efficiency, Finver said the issue was being addressed.
"Based on feedback from people at the wickets and surveys that are done periodically, the consulate is taking it all into account and using that data to update the information," he said.
Finver added that the consulate has mirror websites in Hebrew and Arabic and is in the process of enhancing those as well.
Meanwhile, getting to the new location is a different experience altogether. Whereas the old building was more centrally located, with several Egged buses stopping a short walking distance away, the Arnona building is somewhat off the beaten path. The only bus that stops almost directly outside the building is the 7A, but it's very infrequent. The 7 stops on Rehov Koreh Hadorot and the 8 at Kiryat Moriah, but both are a 15-minute walk away.
"I was never at the old consulate, but coming from Ma'aleh Adumim it took a while to get here," said Judy Holdgram, who made aliya from New York three months ago. "We took a bus and then a taxi, but the taxi driver didn't know where it was," she said.
Nageeh Kames, a woman from Jenin who set out for the consulate at 5:45 a.m., also made the final leg of her journey three hours later by taxi. Using a consulate guard as an interpreter, she explained that she had children living in the US and wanted to obtain a visa so she could visit them.
As Kames waited her turn to enter the consulate, several earlier arrivals completed their appointments and left the premises, heading in the direction of Derech Hebron, about a 20-minute walk. There they would catch buses to all parts of the city and spread the word: The new consulate has some kinks to work out, but all in all it's moving in the right direction.