Anglos are building a community in the transient neighborhood of Nahlaot.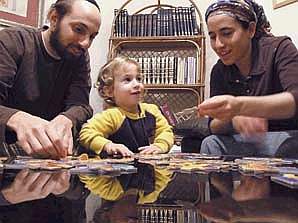 click here for original posting
By Amihai Zippor
For Anglos in Jerusalem, the Nahlaot neighborhood represents a melting pot of nearly every ethnic group in the city: Ashkenazi, Sephardi, Yemenite, religious and secular residents coexist admirably within its narrow confines. That diversity is most attractive to students and temporary residents, who find its varied styles, ideologies and dress codes liberating. For many older Anglos, however, the neighborhood's transient nature makes it a difficult place to imagine settling down. But lately, this situation has started to change. A group of English-speaking olim and native Israelis is setting out to strengthen several local institutions, hoping to generate momentum that will move the community forward.
"We were among those who didn't look at Nahlaot long term simply because it's the place people always pass through," says Dave Mason, an American immigrant from Connecticut. Together with his wife, Chana, Mason investigated several options outside Jerusalem but after talking with friends who also wanted to stay local, they discovered that everything they were looking for was available in Nahlaot and just needed a more secure base to grow. "We realized that if a number of us were to stay we could change the community from transient to a place where one could make a life," Mason says.
It was that realization that led him to become one of the founders of Sulam Yaakov, a new Beit Midrash with classes in Talmud study and Halacha, a smicha (ordination) track partnered with the on-line based Pirchei Shoshanim rabbinical program and other courses in leadership training. Connected to the local Kol Rina Synagogue, Sulam Yaakov's vision seeks to create a place of high-level Torah learning for the English-speaking public – an outlet its organizers felt was missing in the heart of Jerusalem.
"There is a sense that the more the community builds institutions that are grounded and anchored and serve the needs of people who live here, the more Nahlaot will begin to develop an image of a place where establishing a life long term is a reality," says Rabbi Aharon Liebowitz, the head of Sulam Yaakov's kollel and the spiritual leader of Kol Rina. After he moved from Beit Shemesh four years ago with his family to become Kol Rina's rabbi, Liebowitz says he had concerns but quickly discovered it was the right decision. "I was very hesitant to live in the center of town," he recalls, "but the shul was very attractive to us and the surprising thing was that when we came, we discovered the community was exactly what we were looking for." It's the transience, Liebowitz explains, that pushed many of those involved in the Beit Midrash to "have a need to define themselves as the core community" and organize it. "The idea of having a beit midrash in which people who try to balance working and learning in their daily lives have a set place to learn was certainly a big part of what pushed us to do it," he says.
When Mosheh Vineberg, an oleh from Quebec and another founder of Sulam Yaakov, was approached about starting the yeshiva, he quickly realized that if there were people who wanted to stay and make an investment in Nahlaot it would be a worthwhile endeavor. After attending Kol Rina on and off for four years, he understood that many young couples like him and his wife eventually moved out of town to places like Ma'aleh Adumim, Bat Ayin or Mevo Modi'im because of the expense of buying in the Nahlaot area – but he was determined to stay. "I felt like it was a healthy sign of trying to build deeper roots and create a more stable environment for the families that want to build something meaningful," Vineberg says. Though he admits he believes Nahlaot will always naturally cater to a strong transient crowd, every situation has its advantages and disadvantages. Institutions like Kol Rina have limited space and fill up quickly on a Friday night, which can create tension for the regulars who may come late. But for someone like Vineberg, giving up his seat to a tourist or to a group from Tel Aviv who never experienced Shabbat in his community is worth it, he says.
Just a five-minute walk from Kol Rina is the residence of Shalom and Judy Brodt on Rehov Gilboa. Their organization, called Sukkat Shaleym, has served the community for a number of years. Consisting of Yeshivat Simhat Shlomo – group hospitality and learning for Shabbat and holidays that serves more than 3,000 guests per year – as well as a variety of classes, the organization provides a home-away-from-home for many American students and visitors from the states. Known simply as "the Brodts," their home is visited by countless people who end up wanting to stay in Israel and, in many cases, in Nahlaot itself. "When we moved here 12 years ago the local residents were mostly students because the area was in bad shape and prices were low," Judy Brodt says.
She explains that as contractors started renovating old buildings the neighborhood prices rose both for rent and for buying. According to several couples who were recently active in buying a new home in Nahlaot, the average price is $200,000 to 300,000 for a small two-bedroom apartment and for those looking to rent the prices fluctuate considerably depending on the structure's condition. The rising cost of living in Nahlaot and the lack of space are the two major factors that lead people who love the local lifestyle to look elsewhere for a home. "People love it here but when the time comes to think in longer terms they have to find some alternative," Shalom Brodt explains.
As part of its outreach program, Simhat Shlomo has also been trying to launch community wide havurot, or learning groups, in an effort to bring people together and help deepen the commitment to Torah learning in the neighborhood. Shaul Judelman, one of the coordinators of the havurot, says, "Seeing young couples come and go, we felt that if there was more structure it would help people stay." According to Judelman, the goal is that the havurot will "give strength to the community" and change a long-standing perception that it can't be done in Nahlaot.
Another project, run by Rabbi Raz Hartman, the rosh yeshiva of Simhat Shlomo, is a new Shabbat minyan accessed by both the English- and Hebrew-speaking public that does not compete with places like Kol Rina but provides a different type of spiritual experience. Like the Masons and the Vinebergs, the organizers here were people who wanted to grow and take responsibility in a community setting but felt their needs weren't being met elsewhere. After starting in different homes and finally moving to a small, unused synagogue on Rehov Aryeh Levine, the understanding of the minyan's participants, Hartman says, is that "everyone has their own priorities." Believing that it's possible to make a life in Nahlaot, Hartman offered the following advice: "I think there is a shifting of priorities towards first figuring out where you can grow and where it's right for you to be and then figuring out how to do it." This is in contrast, he says, to the question people first ask themselves, namely: "Can I afford to live in Nahlaot?"
One of the other strong community building organizations in Nahlaot is the Mayanot synagogue on Rehov Narkis. The self proclaimed Chabad/Carlebach synagogue is involved in the biggest birthright trip program within the Chabad movement and on Friday evenings there can be anywhere from 200-300 worshipers in attendance, including students from its yeshiva. Mayanot's gabbai Barak Hullman says he's "okay" with the fact that 80 percent of those people are single and belong to the transient crowd in Nahlaot. "People come and go and that's fine. For a lot of people, Nahlaot is a way station. They stop, fill up, and move on but there have to be people working the station, providing the support, and that's what we do," he explains. Hullman has lived in Nahlaot for eight years and was proud to say that though his commitment lies with Mayanot, his activity with other institutions such as Sukkat Shaleym, Kol Rina and Simhat Shlomo remains strong, as each organization complements the other. "They all started from the same place, the original Mayanot, which was on Rehov Mesilat She'arim," he says, adding that the camaraderie is because "it's really one community."
Indeed, the ability for each group to work together is a testament to the potential Nahlaot has to be a strong force both spiritually and socially in Jerusalem. Perhaps that is why Hullman loves the neighborhood, and though he concedes it would be great for more families to move in, he never intends to leave. That said, there are those who loved Nahlaot just as much as Hullman but knew from the start they envisioned bringing up a family in an environment that didn't include the city. "We knew we'd miss the shuk and our friends, but there's not a lot of places for children to run around and we always had a vision of our kids having space like we did when we were growing up," says Leiba Chaya David, currently of Moshav Aderet near Beit Shemesh.
She and her husband Yonah spent two and a half years living in a 40-square-meter apartment there until they started having children. Still, nostalgia exists and the Davids visit their old neighborhood whenever they can. "All things considered, if we had stayed in Nahlaot we would still have had a good life," says Yonah, as he pointed to the special feeling of community they left behind, which he said is "unmatched" in most places.