Garlic Season: 'Stalking up'
|
If all calendars were magically removed from my reach and you asked me to tell you what month it is I'd go to a souk, the local fruit and vegetable marketplaces anywhere in Israel, and just by looking at what's being sold give you an approximation.
Having walked through Jerusalem's Mahaneh Yehuda souk  today I would say judging by the fact there was one stand with fresh garlic heads, stalks still attached, it's mid-March/beginning of April.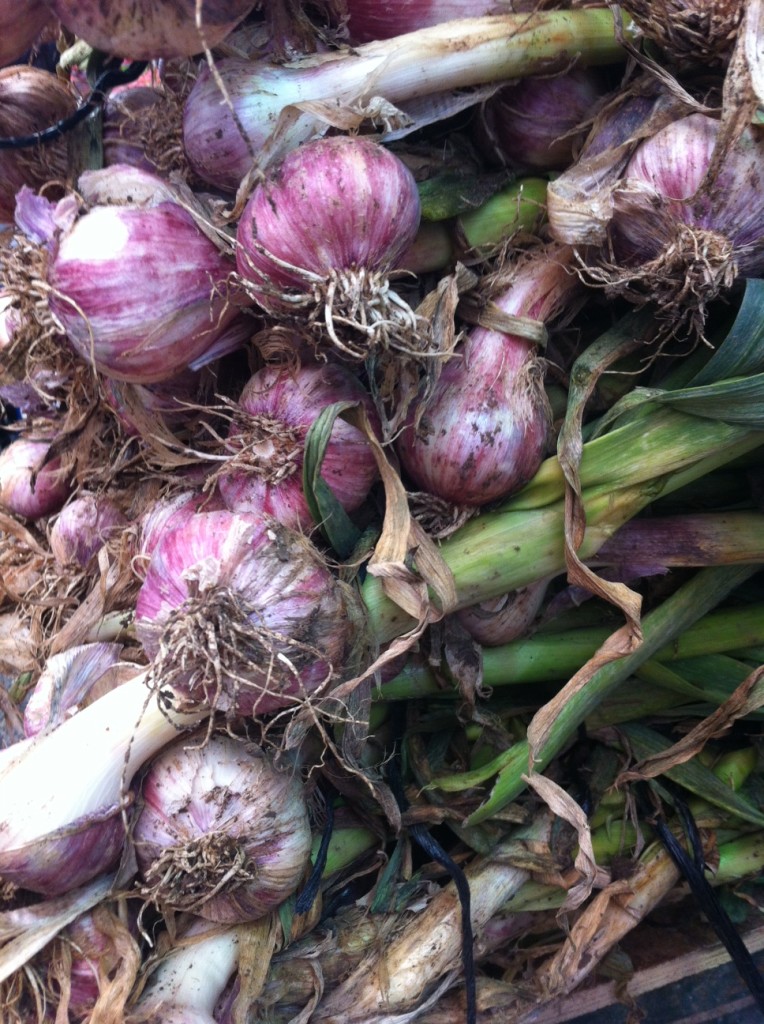 Yes, garlic season is upon us and even before I noticed the new garlic I could smell it twenty feet away. It's that intense aroma which makes for an interesting ride home on the bus as people with very sensitive senses of smell may be a bit perturbed. Still, for those of us who understand the depth of the moment (garlic's health benefits are proven and cannot be underestimated) it's a special time and accidentally tickling a stranger sitting next to you with the edge of a garlic stalk is a price I will pay for not having to buy garlic until next March…
Yes, I don't just by a few heads of garlic. I buy enough heads with stalks to last at least a good ten or twelve months.
That's why my home smells like garlic for the weeks leading up to Passover and I almost can't wait untill next week when I return to the souk and see numerous stands starting to sell fresh heads like those pictured above.
Garlic lovers like myself will be surveying each stall for the best head size, price, and how well the stalks will braid. Braiding makes nice decorations but more importantly helps hang the garlic in dry places so it dries  nicely and lasts throughout the year.
After a few weeks of hanging the stalks turn brown and the extraneous peal around the cloves become papery. As long as the heads are stored in a dry place and kept attached to the stalks the 'fruit' will stay fresh for long periods of time.
For instance, last year's garlic cache made it until February. That's when we started to notice the remaining ones  drying out or growing. Since we use garlic often I had to buy a few heads here and there over the past six weeks but with the new harvest's arrival it's the season for 'stalking up' again.
Note: If you're buying garlic in Israel without stalks local bulbs won't usually be sold in mesh strands or look completely white. Those are from China, the world's biggest garlic exporter.